10 Things To Consider Before Trying Miralax For Your Child's Constipation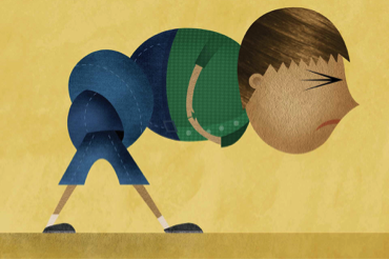 Polyethelene glycol 3350 (PEG 3350), commonly known as Miralax[1], is one of the most commonly prescribed medications I see in my patients. Although it has been in use for 70 years[2], PEG is not FDA approved for use in children. Actually, PEG has only been approved for a 7-day course in adults. PEG is a chemically compounded product made by linking together ethylene glycol molecules. Ethylene glycol is the main ingredient in anti-freeze and a toxic organic compound. Due to the fact that PEG is odorless, easily mixed with juice and least likely to cause electrolyte imbalances, it has become the laxative of choice for pediatric constipation.

Constipation is a digestive complaint that runs rampant in the United States and perhaps worldwide. I see children struggling with constipation on a daily basis and strive to get to the root of what is causing this pervasive problem. Particularly, constipation is a problem among children with Down syndrome[3], Autism[4] and ADHD[5]. My goal is to prevent the long-term use of medications and supplements to manage constipation and rehabilitate the gastrointestinal tract to obtain a healthy and balanced gut microbiota.
Being constipated is uncomfortable and can be enough to put anyone in a bad mood. Constipation is defined as incomplete or infrequent stools, as well as, difficulty passing stools. I see children that present any number of ways, but to truly diagnose constipation 2 of the symptoms listed below must be seen over a three-month period. This is the Rome-III criteria[6]:
Fewer than 3 bowel movements per week
Straining
Lumpy or hard stools
Sensation of anorectal obstruction
Sensation of incomplete defecation
Manual maneuvering required to defecate
Loose stool are rarely present without the use of laxatives
Constipation is not only a symptom of an underlying problem, but also has the potential to create further dysfunction if not treated properly. When managing constipation, getting to the root cause requires identifying the underlying source of constipation. Some of the common issues we see in our practice include:
Dietary factors such as

Lack of fiber
Lack of water
Food sensitivities and Celiac disease

Delayed gut motility
Thyroid dysfunction
Dysbiosis or an imbalance in the gut flora. Particular strains of microbes are associated with constipation or diarrhea.
Neuropathy
The first step to uncover the root of the constipation is a history and physical exam. A proper physical exam includes listening for the sounds of digestion, percussing or drumming on the abdomen and feeling for gas or impacted stool. While no sounds may indicate obstruction or slow motility, too much sound, aka borborygmus, suggests gas from offending foods, low digestive enzymes, lactose intolerance or celiac disease. Additionally, assessing reflexes and motor strength is important to identify any potential nerve dysfunction.
The next steps to uncover the root of constipation are lab tests and imaging. Labs and imaging are not always necessary to diagnosis the cause of constipation but may be helpful. For example, an organic acid test or microbial stool testing can identify particular microbial disparities, such as yeast overgrowth or Small Intestine Bacterial Overgrowth (SIBO). Imaging may help diagnose bowel obstruction or gallbladder sludge (image 2) that reduce digestive function. Food sensitivity testing will identify food triggers for constipation. Additionally, there are gastric emptying tests and tests for neuropathy but these are rarely used for constipation.
Ideally, we want to see our patients and identify the cause of the constipation, but the point of this article is to help you avoid PEG 3350 (or your child in this case) so after much ado, here are my ten things to consider before PEG 3350:
WATER – Is your child drinking half their body weight in ounces of water, yes WATER! I am not talking about juice or milk (unless it is breastmilk). Additionally, drinking water first thing in the morning stimulates the ortho-colic reflex. Oral consumption of fluid stimulates the peristaltic wave in the intestines, encouraging a bowel movement. If your child has a problem with choking, I encouraging the use of natural thickeners such as chia or slippery elm.
DIET

FIBER – have you tried greens and prunes? Purees of squash with kale and apples or stewed prunes in oatmeal are great options for helping along the bowels. Studies show[7], despite the recommendation of a high fiber diet, parents struggle to implement this suggestion. I understand children are picky, that is why I am here to help. I have suggestions for ways to increase fiber ~ such as purees, chia seed pudding, ground flax mixed into favorite foods ~ as well as, support for working with strong-willed children.
I cannot fail to mention the benefit of both pediatric chiropractic work and acupuncture[19] or acupressure to support optimal gastrointestinal function.

Research has shown Miralax to be an effective treatment for pediatric constipation, yet it is not approved for more than a 7 day treatment in adults… I don't know about you, but I would rather steer my patients in the opposite direction. There are numerous natural remedies to palliate constipation while the root cause is assessed. Consider seeing a naturopathic doctor to help you uncover the cause of constipation in your little one.
Sources:
[1] MIRALAX Drug Label. (2017, June 23). Retrieved from https://www.miralax.com/static/media/pdf/MiraLAX_Drug%20Label.pdf
[2] Fordtran, John S. and Hofman, Alan F. Seventy Years of Polyethylene Glycols in Gastroenterology: The Journey of PEG 4000 and 3350 From Nonabsorbable Marker to Colonoscopy Preparation to Osmotic Laxative. American Gastroenterology Association. 2017;152(4):675-680.
[3] Holmes, G. (2014). Gastrointestinal disorders in Down syndrome. Gastroenterology and Hepatology From Bed to Bench, 7(1), 6–8.
[4] Pang, KH, Croaker, GD (2011). Constipation in children with autism and autistic spectrum disorder. Pediatric Surg Int Apr;27(4)353-8.
[5] McKeown, C., Hisle-Gorman, E., Eide, M., Gorman, G. H., & Nylund, C. M. (2013). Association of Constipation and Fecal Incontinence With Attention-Deficit/Hyperactivity Disorder. Pediatrics, 132(5), e1210–e1215. https://doi.org/10.1542/peds.2013-1580
[6] Jung, H.-K. (2011). Rome III Criteria for Functional Gastrointestinal Disorders: Is There a Need for a Better Definition? Journal of Neurogastroenterology and Motility, 17(3), 211–212. https://doi.org/10.5056/jnm.2011.17.3.211
[7] McClung HJ1, Boyne L, Heitlinger L. Constipation and Dietary Fiber intake in children. Pediatrics. 1995 Nov;96(5 Pt 2):999-1000.
[8] Iacono G1, Carroccio A, Cavataio F, Montalto G, Cantarero MD, Notarbartolo A. Chronic constipation as a symptom of cow milk allergy. J Pediatr. 1995 Jan;126(1):34-9.
[9] Egan-Mitchell B, McNicholl B. Constipation in Childhood Coeliac Disease. Archives of Disease in Childhood. 1972;47(252):238-240.
[10] Sinclair, M. The use of abdominal massage to treat chronic constipation. J Bodyw Mov Ther. 2011 Oct;15(4):436-45. doi: 10.1016/j.jbmt.2010.07.007. Epub 2010 Aug 25.
[11] Vieira C, Evangelista S, Cirillo R, Lippi A, Maggi CA, Manzini S. Effect of ricinoleic acid in acute and subchronic experimental models of inflammation. Mediators of Inflammation. 2000;9(5):223-228.
[12] Winge K, Rasmussen D, Werdelin LM. Constipation in neurological diseases. Journal of Neurology, Neurosurgery & Psychiatry 2003;74:13-19.
[13] Quattrini S, Pampaloni B, Brandi ML. Natural mineral waters: chemical characteristics and health effects. Clinical Cases in Mineral and Bone Metabolism. 2016;13(3):173-180. doi:10.11138/ccmbm/2016.13.3.173.
[14] Quattrini S, Pampaloni B, Brandi ML. Natural mineral waters: chemical characteristics and health effects. Clinical Cases in Mineral and Bone Metabolism. 2016;13(3):173-180. doi:10.11138/ccmbm/2016.13.3.173.
[15] Lee WT1, Ip KS, Chan JS, Lui NW, Young BW.Increased prevalence of constipation in pre-school children is attributable to under-consumption of plant foods: A community-based study. J Paediatr Child Health. 2008 Apr;44(4):170-5. Epub 2007 Sep 14.
[16] Zhao Y, Yu Y-B. Intestinal microbiota and chronic constipation. SpringerPlus. 2016;5(1):1130. doi:10.1186/s40064-016-2821-1.
[17] Muss C1, Mosgoeller W, Endler T. Papaya preparation (Caricol®) in digestive disorders. Neuro Endocrinol Lett. 2013;34(1):38-46.
[18] Ebert EC1. The thyroid and the gut. J Clin Gastroenterol. 2010 Jul;44(6):402-6. doi: 10.1097/MCG.0b013e3181d6bc3e.
[19] Liu Z1, Yan S1, et al. Acupuncture for Chronic Severe Functional Constipation: A Randomized Trial. Ann Intern Med. 2016 Dec 6;165(11):761-769. doi: 10.7326/M15-3118. Epub 2016 Sep 13.